Online Games. LOL
2:16 PM
Hello people ! I'm staring at this posting page for so long and I don't know what to update about. LOL. Anyways this week, me and Jasmine went to try out to sell those christmas deco which isnt really that easy lar -.- we went to gateway there de office which we cant even go in. =P we also went to shops asking which all rejected -.- i was like so $^&%*$%## =D hahas. We went home without selling anything. LOL. we also went to take neoprint =D
anyways Jasmine is really good in selling lar. she sold almost all le. anyone wanna buy Christmas deco from me ? CONTACT ME OKAYS!! =D
I dunno what to post lar so i'm going to post screen shots from the online games i played =D
MAPLE! EFFENDY, CHRIS, ME, HUIWEN AND SHIYAO :D

Me and my gf. LOL. jk lar. ME AND CHRISTINE :DDD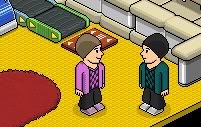 HABBO (: me and JOHN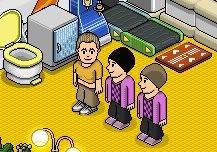 Andrea, John and MEEE =p
that time i played habbo till
5am
in the morning lar -.- with John and Andrea -.- OMG (:
ohya, i told WENJUN something =D i only told her. CAUSE SHE MY BUTTY MAH ! haha
TAGGS REPLIES
DEMO:
haha. so happpy u are first ar ? lols.
MDM GAY:
yar, i know that. lols.
WENJUN:
lols. your blog is cool too.
JASMINE:
lols. thanks for all the tags. hmms, see u are in my post :D
JOEL:
yeap. updated again lols. u wan my blog skin ? no!! haha.
AILIN:
lols. thanks!
JOHN:
lols. thanks anyways. u lie u never update one.
CHAR:
lols. what! u this insane girl. lols. anyways. thanks for tagging. see ya next year in school. LOLs.
STEPH:
lols. thanks.
JIDAN:
no~ so sad. its like JINGYUAN. lols.
JUZ:
heyhey u are finally back at my blog. lols.
MR GAY:
lols. i dunno.
XIAOSHARON:
lols. thanks for taggin !!
MEDXX:
welcome! and nth secretive lar. lols.
TAYXINGWEI:
lols thanks.
BENTOH:
update liaos.
WENWEN:
thanks for the tag! =D: thanks. anyways who are you? lols.
SUHAILA:
haha. i m small bully. u then big bully anyways thanks.
DARYLENE:
thanks ya!