Hey people! Last friday I was caught by Ms sng. for having long hair again. well, she given me 1 hour of dentention after school. then was late during friday, 8.20am like that then reach school. LOL. then was given 2 hours of dentention! ;( so total i had 3 hours of dentention. I'm like such a good boy then how can give me 3 hours dentention one. oh ya. Randy Zhang, Weikang, Lidong and Guowei also had 1 hour of dentention with me. THEY ONLY GOT 1 HOUR WHILE I GOT 3 LEH. STUPID. zzz. so i spent the 3 hours in the needle work room. then there were girl guides and red cross. luckily my CATEGORY was there to accompany me! They even took pictures for me lah even Ms sng was just in front of me. ;D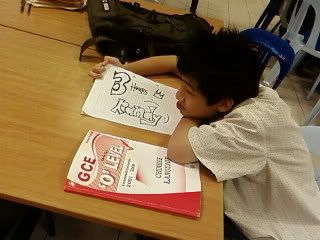 Drawn by me! 3 Hours of dentention ;(
Drawn by me also. CATEGORY ;D
My ku chi gu ;D thanks for the pictures also. ;D
Bye. 3 hours over. LOL. from 1.30 to 4.30 ;(
Next! i went out with Huiwen on last saturday @ 12+ and went back home at 6.30 in the morning. ;D and what happen when it is 5+ in the morning?
Bus stop will have no people.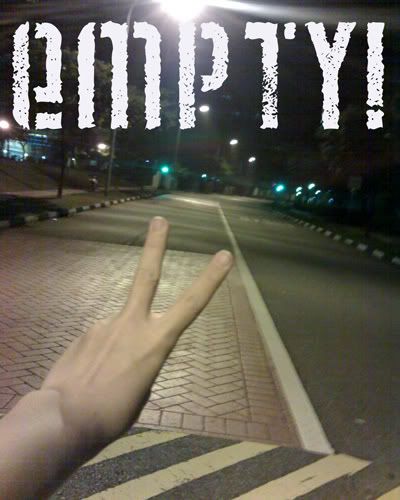 The road will be empty.
and you even could do this. it is like so coolness (:
AND I HAD MY HAIRCUT DURING THE WEEKEND.
now i love my cute SHORT hair.

*LOVES!
AND OUR ENGLISH PROJECT ON WEATHER FORECAST IS FINALLY FINISHED. WANT SEE OUR VIDEO? :D


i acted as WILLIAM HUNG IN STUDIO, WALKING TO CAR PARK AND MANY FANS COME TO ME. THE GUY JOGGING IN NORTHVALE SINGAPORE. THE LADY WITH A THE WIG IN THE BEIJING, CHINA WHERE MY BABY FALL INTO THE WATER AND SHOUTED. ALSO FAINTED IN FIJI ISLAND. ;D
thats all. end here already. MID YEAR COMING! ;D