Hey hey ! I'm back. After much of mapling and find it lame. I went back to HABBO ! which could make time pass really fast. LOL !
Firstly it was me and Johnston. Then in the second pic, I had a hair makeover. :D The ice-cream was nice !
And we celebrated my bday early ! =p and that cake was MINE! -.-''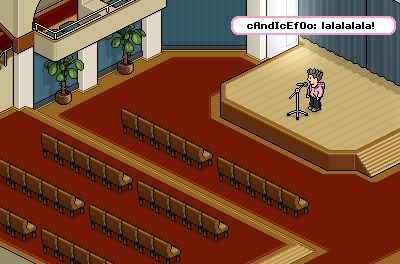 After tt i went to the Theatredrome and i was there alone singing -.- and i jio Johnston come. . .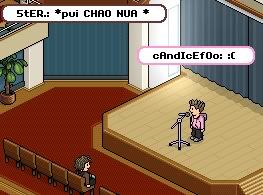 And wtf? he came and do this to me -.-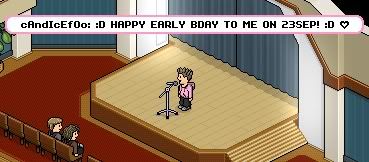 and finally! another supporter of mine :D and i remind them my bday =x

Thanks john for singing this to me -.-

last but no least. THEIR DANCING REALLY SUCKED LAA ! yawns. habbo was fun !
and maybe the next time i blogged. it would be on my bday (:
TAG-REPLIES
JOCELYNSEOW: i never lie okay. u bully me first. :D DEMOO: -.- hello MDM GAY. hahas. AIN AIN: hey hey mei mei ! =p CHAR: =D haha JASMINE: i never make fun of yur surname what -.- LOLS. and my hair sucks =x JIDAN: Hello yewaik !! MR GAY: nope. i didnt see MRS GAY. but i saw MDM GAY taking her out for shopping -.- MICS: yur mei mei is cute. mirabelle (: HUIJUN: lols. srys i didnt look up the bus. =x anyways. thanks for the tag !