its Sean's bday today (: HAPPY BDAY DUDE ! and OH YA! i was the FIRST to sing bday song to him !!! REMEMBER AR SEAN !!! =x
Sean was really fortunate lar. he was kena beaten by LOADS of ppl. After school, went to Seoul Garden lors. 7pm meet at yewtee and went there. then its like $251+ for the 11 of us. -.-
Had lots of fun lar esp. when me, zibing and joce cook the fried rice and jing yuan come extra lor. HE IS SO GOOD CAN. KEEP ADD EXTRA things into it =] and also we keep fool the sean lar. like go eat all his ice cream and take away his chair. BLAHHS~
after all the eating ! ALL 11 OF US TOOK PHOTO. (: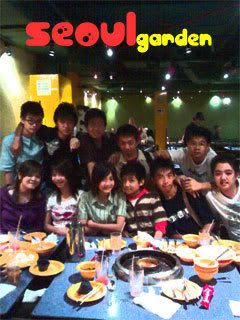 Top: Jingyuan, Zongwei, Zibing, Sean, Weikang
Bottom: Sharon, Michelle, Jocelyn, Me, Lidong and Jiazhi.
after that went to carpark, zongwei and jy go give sean his bday bash again! Woots. AND WE SAW MDM POH OUTSIDE CAUSEWAY! =] After that we all went home. Zw pei mich home. Me, lidong and zibing pei joce home and the others went home individually (: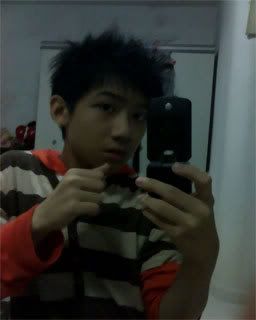 Me, with that short hair. -_- grr. i wan it to grow back. =x and the reason for cuttin it so short is bcos i DUNWAN teacher to catch my hair again.
TAG-REPLIES (:
MR-GAY: wow. you're the first one i replied to. haha. and why u never come with us today. DEMO: HEY! i can i can. i can reply same ppl twice =pp WENJUN: too bad. not 1st again? hahas. yeah it had been fixed so i can post again. woots. XIAOSHARON: wee. thanks for taggin! we sure had loads of fun today. ahaha (: JASMINE: honoured right =D anyways, decide le then tell korkor here =D haha. and i love to put yur surname! PNG! ZONGWEIIS: haha. yurs nicer lor! JOCELYNSEOW: hmms, i never! U BULLY ME FIRST!!!!!!!! =[