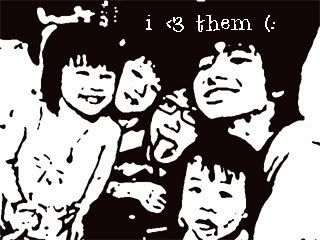 me, my brother and cousins :D

NO SCHOOL TODAY ! how great ! CAN SLEEP. THATS WHAT I REALLY LOVE. SLEEP!
I'm really really glad that i passed all my subjects ! :DDDD but not really that good lar. anyways, its going to be holidays soon ! weee. but still got extended lessons till 09 nov ! thats so .___. LOLS. Hais, i really hope none of my friends retain. NONE of them !! :D
emm, anyways yesterday zongwei asked me to go to marina bay with them to fly kite. but i have a date with .. my MUM xD so cannot go with u all le. SORRYS ! (:
WENJUN! u good. ask me play maple then keep ps me. GOODD!!
WOO, the sec 4 graduates yesterday. :( BYEBYE ALL SEC 4 PPL. lols.
NEXT TUESDAY, watching deathnote. :D with WENJUN, YEWAIK, CHRISTINE, MEDALEINE AND JINGYUAN :DD
anyways, pls watch the television to know the latest PSI (: i'm going to end here byebye !
TAGG-REPLIES (:
DEMO: haha. you're first again :D MED: lols. HUIJUN: there is yur name what -.- yeah. exams finally over. WENJUN: PSK !!!! =] MICS: i relink u le =x NATT: thanks for tagging too :D AILIN: thanks for taggin ! JASMINE: haha. now u finally know how i reply tags. i mean the order. and thanks for all the tags (: HELMI: haha. update liao. i'm not lazy!! haha. maybe i m =x CHARLOTTEH: u then kuku head. wahhaha. SUHAILA: haha. i will go yur blog and keep smiling next time xD FATIN: hey meimei thanks for taggin, i look super weird in that pic. ahha. PASSERBY: yeah, in a way to thank them what -.- HAYAYA: i update le!! I M NOT LAZY ANYMORE. whaha JIDAN: heys, thanks thanks.
WOOTS, WENJUN AND JASMINE ALWAYS TAG MANY. THANKS SO MUCHH !!